Pekalen River Rafting in Probolinggo City, East Java - Indonesia
---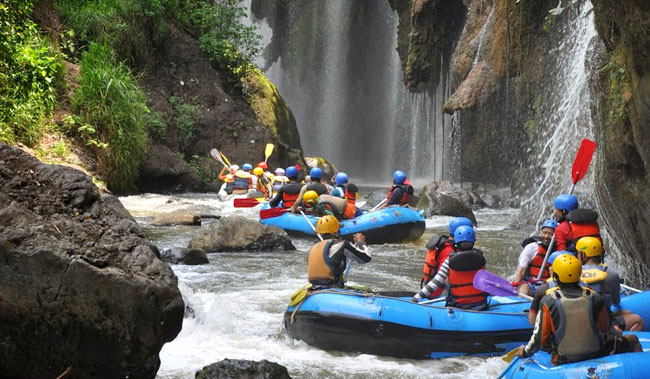 Bromo Tengger Semeru National Park offers more charms that people could not imagine. Apart from the formation of majestic mountains, tourists can also enjoy a challenging activity like rafting! In this case, the best destination would be Pekalen River which belongs to three Sub-Districts including Tiris, Gading, and Maron. Still, people can access it easily from Probolinggo City. It is true rafting is not everyone's cup of tea but the fun cannot be denied. That means everyone is likely to try it and get a new experience during their visit to Probolinggo.
The Nuance
The length of Pekalen River is about 29 km and it consists of 3 rafting zones. The first one has the length of 12 km called the upper river. The second zone is called the middle zone with the length of 7 km. Another zone is called the bottom Pekalen having the length of 10 km. Each of them indeed has specialties! For instance, tourists would get a more challenging rafting experience in the upper zone as it owns 10 falls and a wilder current. During rafting, everyone can witness waterfalls and caves as well. Not to mention the atmosphere is quite splendid.
Exploring Pekalen River
The fact is Pekalen becomes one of the longest rivers in Probolinggo. Not to mention it has wild current. Knowing the fact, the locals decided to take advantage of it and opened rafting services for everyone to enjoy. Today, tourists can find two rafting operators which are Noars and Songa. Have no worries. Both of them offer professional services, so tourists can enjoy the activity in a safe manner. Still, everyone should follow the instructions and do not act carelessly. Rafting is a risky sport, after all. Not to mention the current is rough.
In terms of popularity, Songa Rafting Service is well-known among rafters. Once tourists choose the service, they can start listening to the instruction and wearing the equipment. Usually, a group consists of 4-12 people and they might use one rafting boat. As an alternative, they can choose an individual activity which involves either a canoe or kayak. It is more dangerous, though. Perhaps only experienced tourists are likely to choose such solo adventure.
People have different reasons for conducting rafting. Most of them look for fun while others want to improve their spirit and health. In this case, Pekalen River is a good destination as it features numerous challenges. No wonder, it is not enough to try it just once. During holidays, for example, some tourists decide to try both a group and solo rafting several times. They come either alone or with friends, actually. As for the best time to visit the rafting base camp, it would be between 9 am and 1 pm.
Nearby Attractions
Bentar Beach
Jabung Temple
Ranu Segaran
Argapura Mountain
How to Get There
From Probolinggo, tourists can simply head to Songa Rafting Basecamp. The distance is 25.5 km and it takes about 1 hour to reach the site. Also, the best route to take is Pantura or PB. Sudirman Street.
Where to Stay
Sari Indah Hotel
Kampung Kita Hotel
Alliya Hotel

Latest News
Taman Nasional Bromo Tegger Semeru (TNBTS) Bromo Tengger Semeru National Park (TNBTS) was established through a Decree of the Minister of Forestry in 2005. Bromo Tengger Semeru area was designated as a national park partly because it has a unique ecosystem where has a caldera inside a caldera in the form of an active volcano (Mount Bromo) inside the Mount Tengger caldera with the sea volcanic sand around it. The uniqueness of the ecosystem and the beauty of natural panorama of Bromo Tengger Semeru National Park (TNBTS) make this area…
---
Batu, Malang, the city which is known for its wealth of natural tourism presents a new experience in the form of a thick Japanese feel at a resort called The Onsen Hot Spring. The resort is surrounded by pine trees with a backdrop of mountain views, making The Onsen Hot Spring Malang atmosphere so similar to the atmosphere at the foot of Mount Fuji. The term Onsen itself in Japan is a public hot spring bath that is separate for women and men. At The Onsen Hot Spring Malang, tourists…
---
Madakaripura Waterfall is one of the destinations that can be visited when you are in Probolinggo. Madakaripura Waterfall has an exotic view. In fact, dubbed as eternal rain. Madakaripura Waterfall, located in Branggah sub-district, Negororejo, Probolinggo, East Java. This tourist attraction has a charming view. The water is clear, then the high cliffs further add to the specialty of this area. Madakaripura Waterfall has a height of 200 meters, and has been named the highest waterfall in Indonesia after Si Gura-gura Waterfall in Toba Samosir, North Sumatra. Uniquely, this waterfall…
---
Not inferior to other cities in East Java, Madura Island also has interesting natural beauty. Each region has its own charm, Sumenep is no exception. In addition to its delicious culinary, Sumenep also has beautiful islands. Some islands even still have few visitors. Curious where is it? Check out this list of the most beautiful islands in Sumenep, Madura, East Java! White sand and clear water, Gili Labak is one of the favorite destinations for tourists. Every corner of this island feels Instagrammable. Gili Labak or Gili Lawak, is one…
---