Kalimati Post in Semeru Mountain, East Java Province
---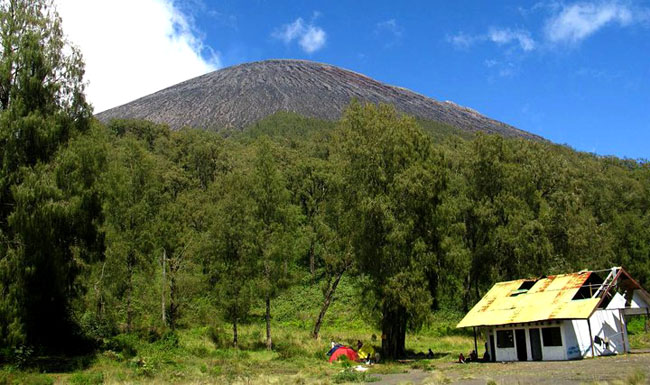 Trekking becomes a challenging activity when it is done on a site like Semeru Mountain Indonesia. It is an active volcano with a level II of alertness. Despite the danger, trekkers are allowed to climb up the mountain until a certain checkpoint. Usually, they might gather in Kalimati Post which resides in 2,700 meters above the sea level. To be exact, it is about 2.8 km before Mahameru Peak. The post can't reassure the safety of the trekkers, though. There are several cases of injuries and death in that location, especially due to the recklessness of the trekkers.
The Nuance
When it comes to the nuance, Kalimati post features wild nature. Lots of big trees, plants, and shrubs grow around the site. The most common trees which can be seen are the pines. They appear big and beautiful ornamenting the post. Even edelweiss grows abundantly in that location. As for the background, the majestic Semeru Mountain never fails to amaze everyone. The next feature is the camp field where tourists can build a tent and rest. The post also becomes the site to keep their belongings before continuing their trekking.
Exploring Kalimati Post
Usually, Kalimati Post would get more visitors during a special day like Isra Miraj. Also, it becomes a popular tourist destination among trekkers during long holidays. Both local and foreign trekkers are seen at the site because they share similar interests and want to obtain new experience in Semeru Mountain Indonesia. In fact, it can reach more than 150 visitors per day! It is a good thing as, actually. With more people, trekking to the post feels safer and merrier. Those people can ask for help from others, as well.
Due to the high number of visitors, there is a limitation regarding those who are allowed to climb the mountain or reach Kalimati Post. According to the locals, the limit is 500 per day. This number is likely to increase over time especially during long holidays or weekends. Not to mention all trekkers should sign a statement letter during the briefing. They must state that they would follow the instructions and never pass over Kalimati Post. Otherwise, no one would guarantee their safety or even life during trekking. Another precaution is that they must use only an official route to go up. This prevents them from getting lost when heading to the post.
In order to access the post, tourists must pay the fee. It may cost more expensive during holidays, in fact. Have no worries. It is a worthy expense! When tourists arrive at the post, they are able to enjoy stunning views of nature and take some pictures. They even get the opportunity to see a famous statue called Arcopodo. It is said only lucky or chosen people can see it!
Nearby Attractions
Tumpak Sewu Waterfall
Jago Temple
B29 Peak
Kidal Temple
How to Get There
From Lumajang City, tourists should head to Senduro Sub-District which has the distance of 25 km. That means it takes about 1 hour to reach the site. Once they arrive at Senduro, their next destination is Ranupani trekking entrance. The last thing to do is to climb to Kalimati Post Indonesia, which takes about 8 hours! The distance is 18 km, after all.
Where to Stay
Casa Bromo Homestay
Basanova Villa
Sion View Hotel
Cemara Indah Hotel

Latest News
Taman Nasional Bromo Tegger Semeru (TNBTS) Bromo Tengger Semeru National Park (TNBTS) was established through a Decree of the Minister of Forestry in 2005. Bromo Tengger Semeru area was designated as a national park partly because it has a unique ecosystem where has a caldera inside a caldera in the form of an active volcano (Mount Bromo) inside the Mount Tengger caldera with the sea volcanic sand around it. The uniqueness of the ecosystem and the beauty of natural panorama of Bromo Tengger Semeru National Park (TNBTS) make this area…
---
Batu, Malang, the city which is known for its wealth of natural tourism presents a new experience in the form of a thick Japanese feel at a resort called The Onsen Hot Spring. The resort is surrounded by pine trees with a backdrop of mountain views, making The Onsen Hot Spring Malang atmosphere so similar to the atmosphere at the foot of Mount Fuji. The term Onsen itself in Japan is a public hot spring bath that is separate for women and men. At The Onsen Hot Spring Malang, tourists…
---
Madakaripura Waterfall is one of the destinations that can be visited when you are in Probolinggo. Madakaripura Waterfall has an exotic view. In fact, dubbed as eternal rain. Madakaripura Waterfall, located in Branggah sub-district, Negororejo, Probolinggo, East Java. This tourist attraction has a charming view. The water is clear, then the high cliffs further add to the specialty of this area. Madakaripura Waterfall has a height of 200 meters, and has been named the highest waterfall in Indonesia after Si Gura-gura Waterfall in Toba Samosir, North Sumatra. Uniquely, this waterfall…
---
Not inferior to other cities in East Java, Madura Island also has interesting natural beauty. Each region has its own charm, Sumenep is no exception. In addition to its delicious culinary, Sumenep also has beautiful islands. Some islands even still have few visitors. Curious where is it? Check out this list of the most beautiful islands in Sumenep, Madura, East Java! White sand and clear water, Gili Labak is one of the favorite destinations for tourists. Every corner of this island feels Instagrammable. Gili Labak or Gili Lawak, is one…
---