Coban Sewu Waterfall in Bendosari Village, Malang City - Indonesia
---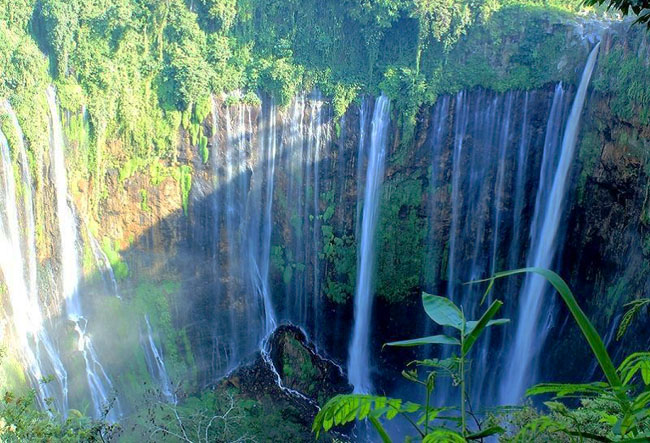 In Bendosari Village, tourists can find a famous waterfall called Coban Sewu. It is part of Bromo Tengger Semeru National Park Indonesia and has been chosen as the pride of Pujong Sub-District in term of nature tourism. Sewu means "a thousand", actually. The location of the falls is between cliffs and resides in paddy fields area. Due to its easy access, tourists keep coming to the site and enjoy numerous types of activities like photography, relaxing, getting in the natural pond, and many others. The locals are also proud of it as they can lure more people to visit both their village and such tourist spot.
The Nuance
As the name suggests, tourists might see many waterfalls in such location. The water is flowing downs from different spots of the cliff so it appears like a thousand of waterfalls go down beautifully. As for the information, it has the height of about 180 meters. The thing is that the landscape is a little bit challenging. Tourists must walk and pass through stairs made of bamboo. Despite the strategic location, everyone should watch their steps when approaching the site. It takes about 20-30 minutes in order to get near to the falls, in fact. No wonder, visitors should come with a good stamina and proper footwear if they don't want to get difficulties.
Exploring Coban Sewu Waterfall
Once tourists arrive at the site, they would be astonished by its majestic panorama. The cliff is quite high and the waterfall cascades in a beautiful manner. Even many trees and bushes grow there. Provided by lots of natural attractions, tourists are likely to carry a camera when visiting Coban Sewu Waterfall, Indonesia. Well, it is common sense. No one would waste the opportunity of collecting many beautiful pictures of nature. Plus, the site has been recognized by local photographers for years!
The next interesting thing to do in Coban Sewu Waterfall is to sit and relax with friends or families. In this case, carrying some snacks and drinks would be recommended. The thing that tourists should pay attention is that they must take care of the environment. It is prohibited to throw trash in a careless manner or spoil the nature. The purpose is none other than to retain the beauty of the waterfall. As an alternative, they can eat in nearby local food stands (vendors) either before or after visiting the waterfall.
Here is the tip. Tourists must be able to choose the best spot to relax and watch Coban Sewu Waterfall, Indonesia. If it is possible, they must choose the one that resides next to the cliff. Not only it offers perfect views, but it is also located near to a shady big tree. Not to mention it provides the best views for photography.
Nearby Attractions
Tetes Cave
Kapas Biru Waterfall
Banyu Anjlok
Jago Temple
How to Get There
From Malang City, it takes about 2-3 hours to reach Pujong Sub-District and the distance is 65 km. Tourists can take Nasional III Street as it is the fastest route to reach the site. Once they reach Bendosari Village, the next thing to do is to use the bamboo stairs and head to the waterfall right away. Be careful as it is quite slippery sometimes.
Where to Stay
Mutiara Homestay
Cakra Resident Homestay
Soemenake Hotel


Latest News
Taman Nasional Bromo Tegger Semeru (TNBTS) Bromo Tengger Semeru National Park (TNBTS) was established through a Decree of the Minister of Forestry in 2005. Bromo Tengger Semeru area was designated as a national park partly because it has a unique ecosystem where has a caldera inside a caldera in the form of an active volcano (Mount Bromo) inside the Mount Tengger caldera with the sea volcanic sand around it. The uniqueness of the ecosystem and the beauty of natural panorama of Bromo Tengger Semeru National Park (TNBTS) make this area…
---
Batu, Malang, the city which is known for its wealth of natural tourism presents a new experience in the form of a thick Japanese feel at a resort called The Onsen Hot Spring. The resort is surrounded by pine trees with a backdrop of mountain views, making The Onsen Hot Spring Malang atmosphere so similar to the atmosphere at the foot of Mount Fuji. The term Onsen itself in Japan is a public hot spring bath that is separate for women and men. At The Onsen Hot Spring Malang, tourists…
---
Madakaripura Waterfall is one of the destinations that can be visited when you are in Probolinggo. Madakaripura Waterfall has an exotic view. In fact, dubbed as eternal rain. Madakaripura Waterfall, located in Branggah sub-district, Negororejo, Probolinggo, East Java. This tourist attraction has a charming view. The water is clear, then the high cliffs further add to the specialty of this area. Madakaripura Waterfall has a height of 200 meters, and has been named the highest waterfall in Indonesia after Si Gura-gura Waterfall in Toba Samosir, North Sumatra. Uniquely, this waterfall…
---
Not inferior to other cities in East Java, Madura Island also has interesting natural beauty. Each region has its own charm, Sumenep is no exception. In addition to its delicious culinary, Sumenep also has beautiful islands. Some islands even still have few visitors. Curious where is it? Check out this list of the most beautiful islands in Sumenep, Madura, East Java! White sand and clear water, Gili Labak is one of the favorite destinations for tourists. Every corner of this island feels Instagrammable. Gili Labak or Gili Lawak, is one…
---