Mentingen Peak in Bromo Mountain, East Java Province - Indonesia
---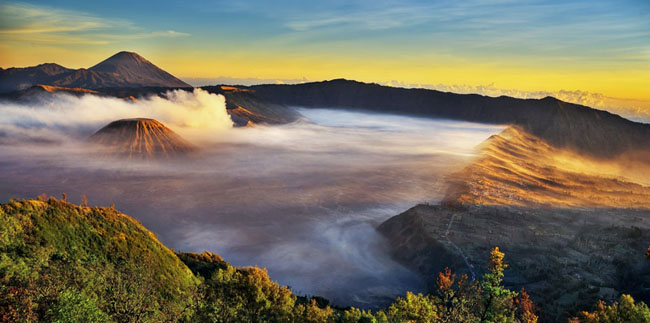 It is without a doubt Penanjakan Views are the best spots to witness the golden sunrise. Is there any other option? For those looking for an alternative, there is Mentingen Peak. It is still part of Bromo Mountain, actually. The exact location is in Ngadisari Village and it belongs to Sakapura District, Probolinggo, Indonesia. Not only tourists can watch a majestic sunrise, but they can also witness grandiose mountains like Batok, Bromo, and Pasir Berbisik. The peak resides in 2,273 meters above the sea level which is quite perfect for such kind of activity.
The Nuance
The best view of sunrise indeed appears in the dawn. Thus, tourists must have been there before it is too late. Due to its high location, visitors would feel like living in the sky. Even the clouds can be seen clearly and closely there. When it comes to the nuance, it is similar to that of the B29. Several jeeps are park neatly there. Tourists can even rent one either to go up or down the site. Not to mention they can use the jeep to get around Mentingen. The purpose is indeed to make the adventure more comfortable and simpler. Later, in the afternoon, they can witness another stunning nature view, which is the sunset!
Exploring Mentingen Peak
The best time to visit Mentingen Peak is indeed in the morning or before that. One thing, a thick fog appears sometimes so it may block the view of the sunrise. Despite the condition, the ray of the sun appears charming and unique even though it is covered by the fog! No wonder, people consider it romantic and amusing. This also explains why some couples visit Mentingen to do honeymoon or simply spending a good time with their couple.
The next charm of Mentingen Peak is the lush savanna. That means tourists can explore the location and walk around the grass freely. Lots of flowers also grow there. According to the locals, that area often becomes a place for a pre-wedding session and other romantic events, which everyone can try as well. On top of that, it is also suitable as the background for photography (as an alternative object to the subviews). Therefore, no one should forget to carry their camera when visiting Mentingen!
Another thing to do in Mentingen Peak is trekking. Some people prefer walking to renting a jeep when reaching the hill. Despite the tiredness, it is definitely more fun for those who love an adventure. Surrounded by nature and refreshing air, a route to reach the peak won't be quite challenging for tourists. They can start from Cemoro Lawang, Indonesia. The hiking would take about 30 minutes or more depending on tourists' stamina.
Nearby Attractions
Cemoro Lawang
Mount Bromo Viewpoint
Bromo Mountain
B29 Peak
How to Get There
From Lumajang City, tourists can take Gabugklakan Raya Street and head to Probolinggo District (51.2 km) of Indonesia.  Later, their next destination would be Sukapura Sub-District and Ngadisari Village. Once arriving at Cemoro Lawang (the entrance for trekking), they can either go by foot or jeep to reach the hill.
Where to Stay
Lava View Lodge
Nadia Hotel
Huni Raya Bromo
Jiwa Jawa Bromo

Latest News
Taman Nasional Bromo Tegger Semeru (TNBTS) Bromo Tengger Semeru National Park (TNBTS) was established through a Decree of the Minister of Forestry in 2005. Bromo Tengger Semeru area was designated as a national park partly because it has a unique ecosystem where has a caldera inside a caldera in the form of an active volcano (Mount Bromo) inside the Mount Tengger caldera with the sea volcanic sand around it. The uniqueness of the ecosystem and the beauty of natural panorama of Bromo Tengger Semeru National Park (TNBTS) make this area…
---
Batu, Malang, the city which is known for its wealth of natural tourism presents a new experience in the form of a thick Japanese feel at a resort called The Onsen Hot Spring. The resort is surrounded by pine trees with a backdrop of mountain views, making The Onsen Hot Spring Malang atmosphere so similar to the atmosphere at the foot of Mount Fuji. The term Onsen itself in Japan is a public hot spring bath that is separate for women and men. At The Onsen Hot Spring Malang, tourists…
---
Madakaripura Waterfall is one of the destinations that can be visited when you are in Probolinggo. Madakaripura Waterfall has an exotic view. In fact, dubbed as eternal rain. Madakaripura Waterfall, located in Branggah sub-district, Negororejo, Probolinggo, East Java. This tourist attraction has a charming view. The water is clear, then the high cliffs further add to the specialty of this area. Madakaripura Waterfall has a height of 200 meters, and has been named the highest waterfall in Indonesia after Si Gura-gura Waterfall in Toba Samosir, North Sumatra. Uniquely, this waterfall…
---
Not inferior to other cities in East Java, Madura Island also has interesting natural beauty. Each region has its own charm, Sumenep is no exception. In addition to its delicious culinary, Sumenep also has beautiful islands. Some islands even still have few visitors. Curious where is it? Check out this list of the most beautiful islands in Sumenep, Madura, East Java! White sand and clear water, Gili Labak is one of the favorite destinations for tourists. Every corner of this island feels Instagrammable. Gili Labak or Gili Lawak, is one…
---